---
LogoJET's newest food-safe printer in use at Baton Rouge cooking school
Lafayette, Louisiana – Louisiana-based LogoJET's newest printing venture has its roots based in a long-ago shopping trip for a candy confection. LogoJET founder and CEO Susan Cox was seven years old when her mom took her to buy a hollow chocolate egg. Two ladies were nearby and for an extra fee, they would pipe the child's name on the egg in white icing.
"When I saw my name on that egg, it clicked that this was for me. They personalized it right there," Cox said. "I didn't want to eat it. It was no longer just a chocolate candy. The value increased 10 times — it became too precious to eat."
That shopping trip was the start of a lifetime of Cox seeking to turn everyday experiences into memorable moments.  
"The way I felt seeing my name on that chocolate carries with me to this day," she said. "That's where my heart is — in creating those magical moments for others."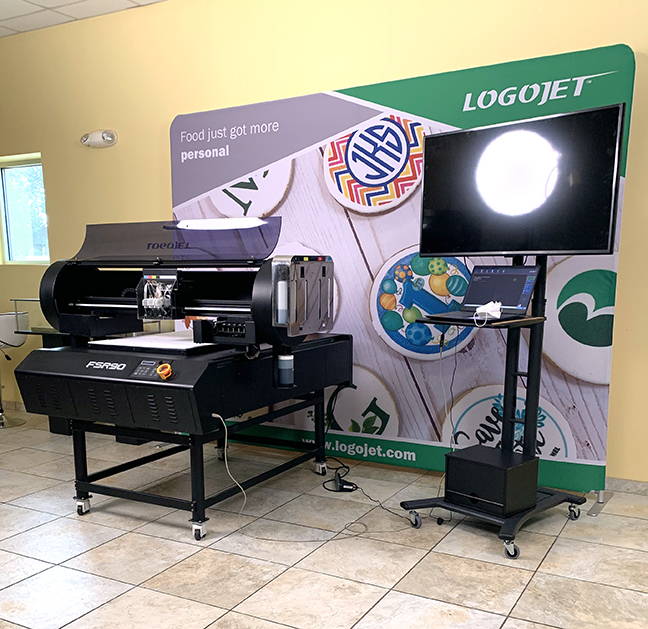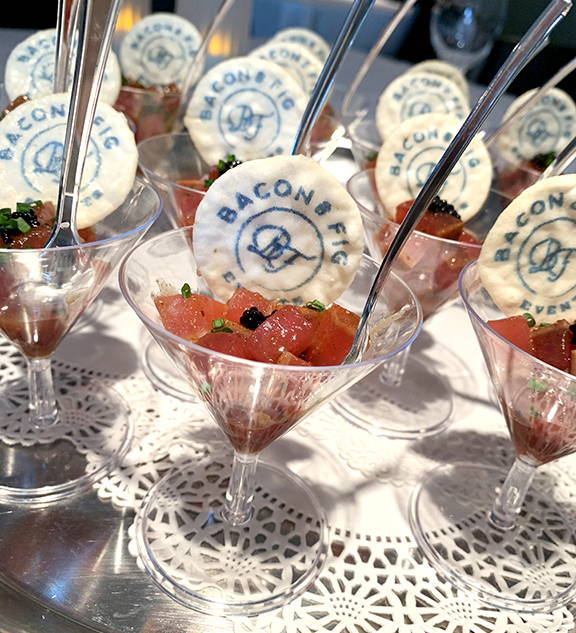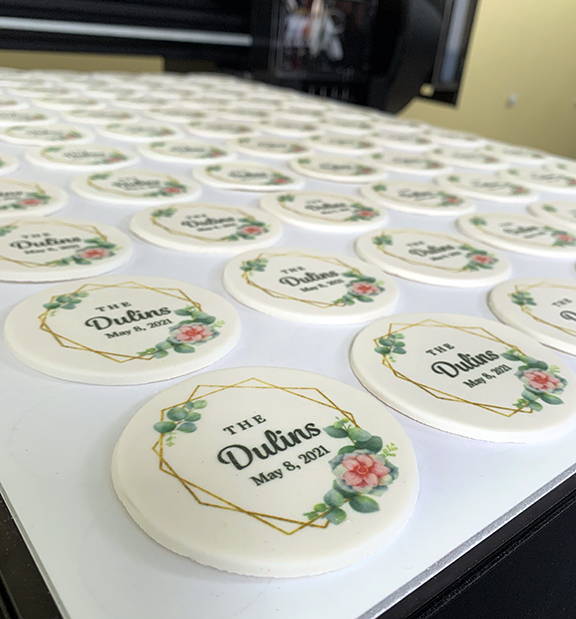 In 16 years, Cox has built LogoJET, a UV printer manufacturer, into one of the fastest growing businesses in the state. The new LogoJET FSR90 printer offers full-color personalization with food-grade inks on edible items — with a 24" x 36" printable area, and 6" product height clearance. This model is designed for continuous production for medium to large shops that produce higher volume customized edible products.
"We are a technology company. Typically, we demonstrate our amazing products for clients and potential clients in our shop — which is not a food safe area," Cox said. "We wanted a food safe place to demo the FSR90 outside of our shop."
Enter Louisiana Culinary Institute.
Based in Baton Rouge, LCI's state-of-the-art cooking and teaching facilities made it the perfect choice to situate the LogoJET FSR90 for client demonstrations and to use within the LCI teaching curriculum.
"Everyone is surprised at the quality of printing," said Charlie Ruffolo, public affairs at LCI. "Frankly, the sky's the limit."
Currently, LCI primarily uses the FSR90 to print on cookies, hamburger buns, desserts and cakes.
"The good news is that the printing tastes as good as it looks," Ruffolo said. "And the turnaround time is faster than anticipated. If you want something customized and memorable, why not? Let's have fun with it. It's a business waiting to happen. We are looking forward to developing it further — the possibilities are wide open."
Ruffolo's perspective is in line with Cox's thinking about printing and customization.
"Everything we do is about creating an experience," Cox said. "We manufacture inkjet printers, but technology keeps improving and the process changes. I don't look at what we do as simply manufacturing printers — I consider it creating experiences."
Oscar Granados, LogoJET's director of sales, says larger food companies are also looking for ways to improve and/or launch new products — and the FSR90 is the avenue to do just that.
"By customizing or adding complex, colorful images to their products they can convert something common into a singular and superior experience, generating new revenue streams and product/brand awareness," Granados said.
Granados brings years of experience in working with edible inks to the LogoJET/LCI partnership.
"With our technology, the possibility of printing directly on food in a more industrial setting is opening a completely new spectrum of possibilities for food manufacturers."
Granados adds that the LCI/LogoJET is a natural fit.
"We bring clients to LCI, then Charlie Ruffalo takes them on a tour of the facility. They see and hear about the great things LCI is doing. Their food program is no. 4 in the nation, in fact," Granados said.
After the facility tour, LogoJET clients land in LCI's lab and watch a demonstration of the FSR90.
"Afterwards, we lunch at LCI's BRQ," Granado said. "People come out of the experience amazed — it's just a great experience overall."
For LogoJET, more than 50 percent of company revenues are represented by existing customers, according to Cox. She attributes the repeat business to LogoJET's ability to provide customers with solutions that will scale with their business, as well as her personal theme and constant focus on giving people a great experience — the personalized chocolate egg experience that happened when she was seven years old and changed the course of her life.
If you would like more information, or to schedule a visit to see a demonstration of the LogoJET FSR90 printer at the Louisiana Culinary Institute, please fill out the form below.