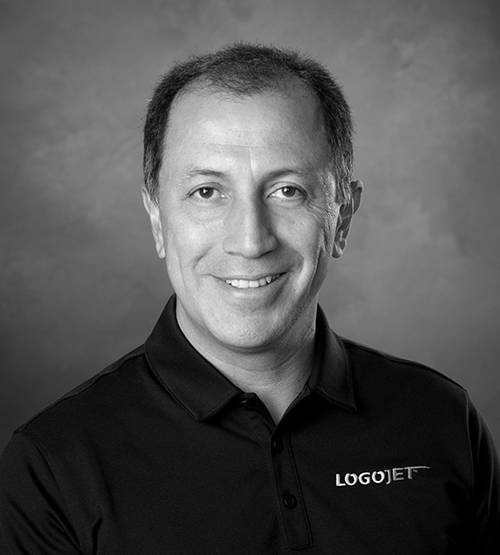 Lafayette, Louisiana — LogoJET, a UV printer manufacturer, has appointed Oscar Granados as director of sales. The fast-growing, Louisiana-based manufacturer looks to further its growth with Granados, who brings 23 years of experience in the world of printing and inks in his new position leading LogoJET's global sales operations.
During the last 16 years, LogoJET has positioned itself as a global leader in direct-to-object industrial inkjet printing equipment and has streamlined its brand to offer the most elite printing solutions and accessory configurations using specialty inks that include UV curable, eco solvent and even edible ink.
Susan Cox, founder and CEO, has overseen LogoJET's sales management to date. With the UV printing industry on the rise, the company has seen a boom in growth over the last two years. The addition of this new position will allow LogoJET to continue expanding its global customer base.
Granados' deep industry background includes work with multiple international powerhouses like Epson America and Sensient Technologies Corporation in the United States, Latin America, Brazil, Europe, Korea, China and Japan. His experience includes a wide array of product marketing, sales management, business development, operations and strategic planning. Granados will oversee sales and distribution across the globe, helping to identify new markets.
"The growth is already there," Granados said of his new company. "My goal is helping to make that growth sustainable. The future is full of international possibilities — a great match with my experience in South America, Europe, Asia and throughout North America."
Granados, who will be based in Denver, says he anticipates big movement toward home office, small businesses and e-commerce within the printing industry. He says LogoJET's culture of service combined with its expertise, insight and grit puts the company in the perfect position to gain on its role as an industry leader.
"LogoJET has the full solution from workflow to execution to give customers the best path to success. We are in the perfect position to take advantage of market trends and pave the way moving forward."
Cox says she sees Granados' background as a complement to a culture centered on service that LogoJET has built in the world of printing, customization and personalization.
"We've had the good fortune of being able to work with Oscar on several key projects through the years in his roles with other industry leaders, most recently in developing an amazing edible ink," Cox said. "We have first-hand knowledge of his abilities to build relationships and deliver service. He is a perfect fit for our organization and the growth we expect on the near horizon."
Looking to Grow Your Business?
Let's start a conversation! Fill out the form below and our team will be in touch with you.