LogoJET UVx40R-SE Speed-Enhanced Direct to Substrate Printer
---
The industry's leading entry-level printer is now the most affordable!  Includes our unmatched 3-year warranty and 5-star technical support.
PROMO PRICE $28,500
CONTACT US FOR END OF YEAR PROMO PRICING!
The LogoJET UVx40R-SE (speed-enhanced) direct-to-object printer combines industrial-strength components with three extended-wear print heads to bring you a reliable, versatile, and efficient solution for in-house product customization. This UV inkjet printer produces vibrant, full-color, and textured imprints that cure immediately on a huge variety of substrates including plastic, metal, wood, glass, stone and textiles. Printing on products like golf balls, signs, cell phone cases, tumblers, sports equipment, awards, canvases, and almost everything in between is now faster and easier than ever. Its compact footprint allows for easy integration into small shops and home-based businesses, and we've backed it with our three-year warranty and top-notch technical support.
18" W X 18" L Imprint Area

CMYK + White + Clear Gloss Ink

Automatic Product Height Sensor - up to 5" H

Built - In Vacuum Bed

Rotary 360° Printing Capability

Speed-Enhanced Bi-Directional Printing
3 Ricoh GH2220 Precision Print Heads

Each industrial print head accommodates two ink channels, for a total of 6 customizable channels, designed for cost-efficient head replacement.

Optimized Ink Flow System

Our ink bag system moves with the carriage during printing to create optimal ink flow and minimized maintenance.

Speed Enhanced

Up to 20% increased output over previous model.

Curable Imprint Area

18"W x 18"L The automatic height sensor detects products up to 5" in height and positions them at an optimal distance from the print head.

Interchangeable Printing Trays

The tray rail system allows for custom trays to be easily loaded and unloaded onto the print bed. Custom trays improve accuracy of product placement as well as production flow.

Control Panel

Puts your most used functions at your fingertips:

- perform head-cleanings and nozzle checks

- manual and automatic flatbed height adjustment

- moving bed backward and forward

Material handling

The built-in vacuum bed and multi-use sticky mat keep substrates in place while printing.

Open Architecture

While other printers in the industry require professionals for parts replacement, LogoJET's easily accessible architecture and design make maintenance a breeze. You don't have to be a tech guru to keep your printer up and running.

Rotary 360° Capabilities

Allow for customization around the circumference of cylindrical and tapered objects.
LogoJET Print Pro ™ –  powered by Kothari - was designed to provide powerful RIP functionality and features critical to full-print production workflows. Main features:

● Hot folders with pre-configured print parameters for specific substrates to simplify job setup.

● Independent channel layering for inline printing and textured effects–up to 8 layers in one job.

● Advanced Head Control produces fine detail in small imprint areas. On rotary jobs, print items with diameters as thin as drumsticks up to 4" bottles.

● Multiple Image Masking crops art to fit multiple shades in a single layout.

● Saved environments to simplify production on various media.

● Templates for repeatability in production.

● Optional add-ons to provide full production solutions:
- Name Color Space–for advanced color management
- VDP–Variable Data Printing for serialization requirements
- Workflow Express–for queue-based job setup
LogoJET offers enhanced remote or in-person installation and personalized training for you and your staff with your purchase. We also provide a 3-YEAR WARRANTY to give you peace of mind. We pride ourselves on our top-notch technical support provided by industry experts who can provide troubleshooting and ongoing training for your business via phone, email, online chat or video conference. Customers also have options to enroll in Service Level Agreements (SLAs) and Priority Support.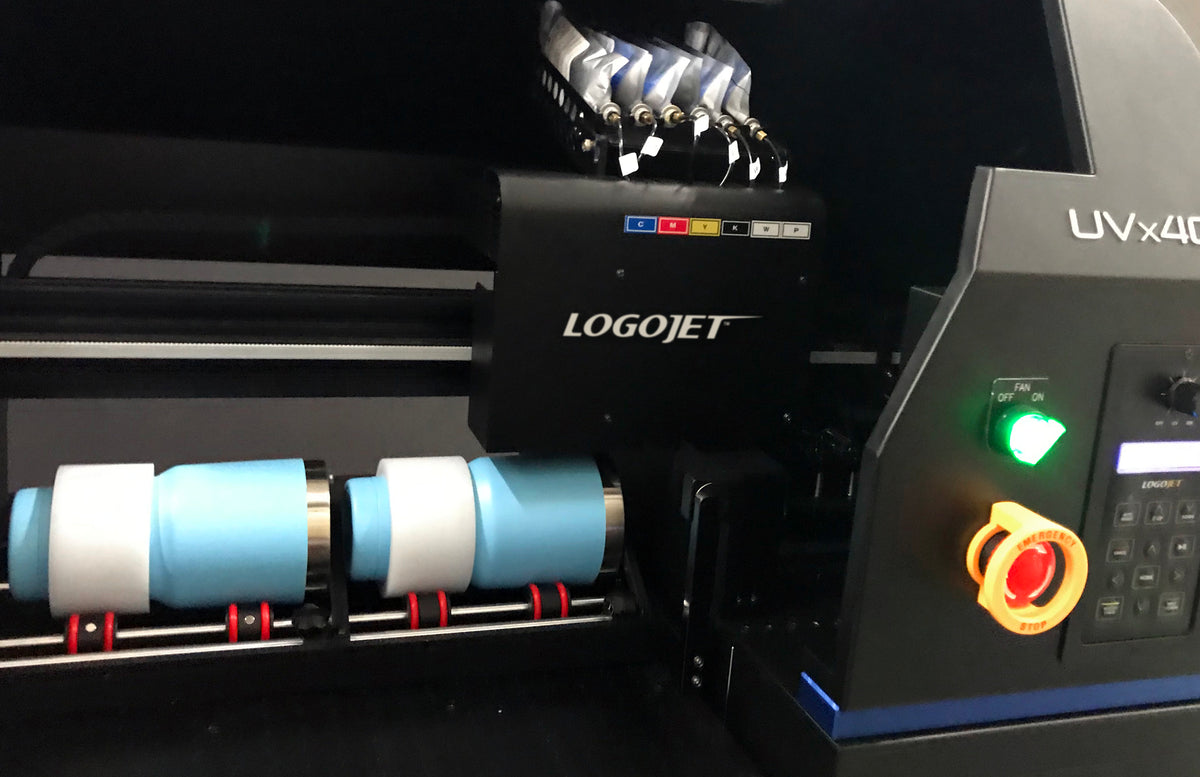 Award-winning H2 UV Curable Inks
Our award-winning H2 UV curable inks provide an increased color gamut and printing on a wide range of materials. The chip-free ink bags move along with the carriage during printing to improve ink flow and reduce maintenance. The ink bag system allows for easy, mess-free replacement. The six ink channels can be customized with CMYK inks, white ink, and/or clear gloss to suit your needs.
Why is the UVx40R-SE Right For You?
What's Included

Each printer is shipped with the following:

1 x INK BAG SET 6 colors, CYMKCG, 220mL each

1 x bag of gloves and maintenance syringes

1 x mini supply of lubricants for greasing the rails and tracks

1 x bag of lint free wipes

1 x installation USB for drivers and other videos

1 x LogoJET Print Pro™ powered by Kothari

1 x anti-static brush

1 x power cable

1 x spare dampers set

1 x USB printer cable

1 x webcam

1 x consumable parts adjustment tool kit

Built-in LCD panel display with touch-button controls

3-year warranty

Specifications

Actual Flatbed Size 18.5" W x 26.5" L*

Max. Curable Imprint Area 18" W x 18" L

Max. Substrate Height 5" H

Max. Substrate Weight 22 lbs

Machine Size 47.24" L x 27.56" W x 28.46" H

UV Lamp Specs 1x395nm, 48V

Print Head 3x Ricoh GH2220

Options 360° rotary attachment, custom trays

Built-in Vacuum Bed Holds down flat, lightweight materials

Power Source 100~120V AC, 50/60Hz or 210~230V AC, 50/60Hz; 660W

Power Consumption Approx 100W (standby) Approx 200W (operation)

Control Panel 13 button interface

Warranty 3-Year Limited**

Consumable Parts Cap tops, ink, dampers, lamp filters, ink tubes

Interface USB 2.0 Interface (1x)

Ink Process CMYK + 2 custom channels (white & gloss)

Ink Type (Standard) H2 UV LED curable ink

Ink Supply Vacuum-sealed ink bags - 220 mL

Optimized Resolution 720 x 600, 720 x 900, 720 x 1200, 720 x 1800, 720 x 2400dpi

System Requirements (PC) Multi-core CPU, 16GB RAM, 1TB HDD or SDD, Windows 11

Printer Weight 245 lbs

Shipping Weight 331 lbs

Shipping Dimensions 54" L x 40"W x 39"H

Environmental Condition 68~77° F; Humidity 35~70% (non-condensing)

RIP Software LogoJET Print Pro™ powered by Kothari

Installation Remote installation included, onsite optional

*includes extension for rotary printing and open-ended for product overhang

**refer to limited warranty details