We know how important it is as a business owner to be able to clearly understand how a piece of equipment is going to bring you return on your investment. At LogoJET, we offer the full UV printing solution: award-winning industrial-grade printers, three-year warranty, unmatched customer support, award-winning inks and premier RIP software. In this blog, we're focusing on our UVx90R printer, which has already snagged its second PRINTING United Product of the Year Award.
You get our fastest print speeds yet on a 24"W x 36"L x 6"H bed, new ink channel configuration, six Ricoh GH precision print heads and industrial-grade components. There's a lot more we can say about the UVx90R's capabilities, but let's take a quick look at how some common substrates can profit you.
Please note: the below times and calculations are provided for comparison and discussion purposes only. They are based upon common production settings for these types of items. Times and costs may very based on operating environment, art files, print settings (adjusted for quality or speed) and more.

---
---
We also offer an optional 360° rotary printing attachment for the UVx90R. The bed on this printer is open in the back and front allowing for greater ease when loading and unloading oversized products. Combine this open concept with our custom tray solution, as shown in the video above, and you have a seamless workflow experience.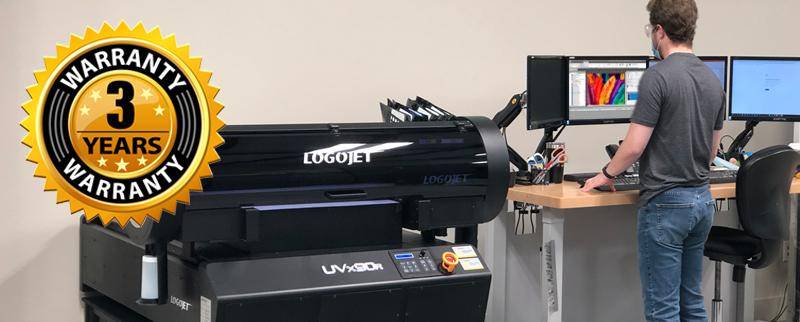 ---
All our printers are back with a brand new three-year warranty, which we recently increased from our original two-year warranty plan. We were already serving customers who were out of warranty during the height of the pandemic, in order to help keep their business going. We were pleased to be able to make this level of service a permanent part of our support model.
Our team can help you figure out exactly how much a project will cost and how much return it will produce for you. Reach out to us today via the contact form below. We'd love to hear from you!