Through the years, we've learned how essential repeatability is for so many of our customers. It's the only way to maximize production output and profitability. That's why our team of in-house experts has spent so much time refining our custom tray design process. As the only UV printer manufacturer that specializes in custom tray solutions, we consider a number of factors in creating each unique application.
---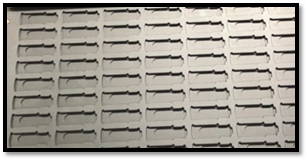 We assess how many parts can fit per bed to maximize productivity, combined with the integrity of a tray to ensure the tray lasts.
Our trays are made out of aluminum to last forever and anodized black to prevent any UV reflection back onto the print heads.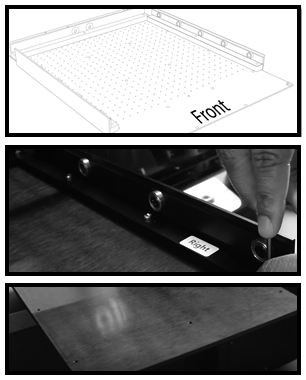 ---
Our UVx40R and UVx40R PLUS printers include a unique tray rail guide system that can be installed to be used with our custom trays.
We design the trays to glide smoothly and magnetically snap into position in the back. This offers consistent registration and prevents the parts from popping off while being put onto the bed. This is ideal for a high production environment.
This video here shows how to install the tray rail system and an example of tray placement.
Optional design can be flat on the print bed. Our print beds are designed with M4 screw holes on five points of the bed so they will be securely pinned down.
---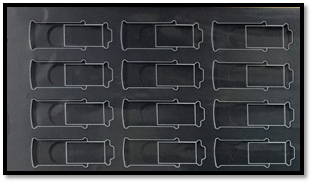 Each tray is tested in the LogoJET Print Pro RIP Software and saved as a template file to be used.
This template file represents the actual outline of tray cut out. This helps in the one-time alignment test to ensure your printer is matching to the template.
A second template file is made for the actual imprint area only.
---
Our custom trays are designed by a print production specialist after they've examined your product(s) and discussed placement.
We make sure that each part can be placed consistently and easily centered during printing. This is especially useful for complex products that have concave surfaces and specific product placement that aligns with another logo impression on the product.
---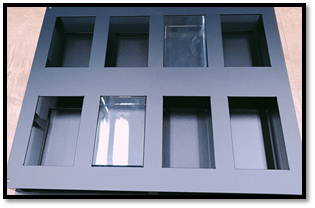 Printing clear products can involve a head strike if not properly accounted for when printing, and our custom trays will prevent that. The auto height sensor will detect the color of the tray before the product.
Any product that has a reflection during UV printing can cause the print heads to clog. Our custom trays are designed to limit reflection and air flow turbulence between products. This will prolong the print heads and prevent clogging. A top tray is often is a good solution to ensure that the UV light reflects straight down during printing.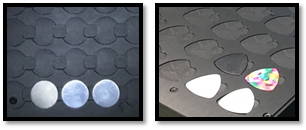 ---
Removing product from a tray can be as easy as removing the tray and flipping product out onto a table. Depending on the product, a notch on the side of each cut out helps to remove individual products to be flipped on other side or simply removed from the tray.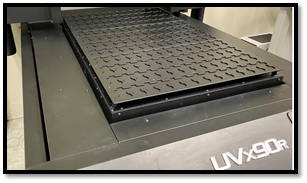 ---
The UVx90R's open bed concept is perfect for multiple trays to change while printing. Since the bed is 24"x36" size we split the trays into three segments for easy loading and unloading. The smaller tray segments are lighter for the user to handle.
An optional fourth segment can be made so that new blank product can be prepared on the tray while other segments are printed and then changed out. See video demo here.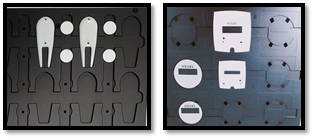 ---
Have multiple product sizes in mind? Depending on the product variety we can make a multipurpose tray to accommodate a variety of shapes on the tray. The products should lay flat at the same height as other objects if being printed at the same time.  
---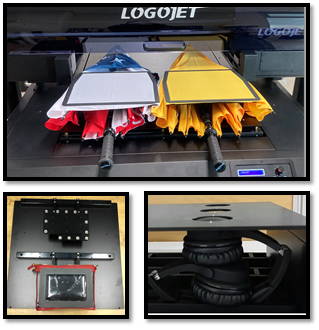 Holding down inconsistent products can be a challenge. We've designed a number of unique trays to accommodate a variety of applications that require being secured during printing.
Complex projects have included industrial magnets and top trays to hold products down as a flat and consistent as possible.
View our gallery of custom tray projects here.
---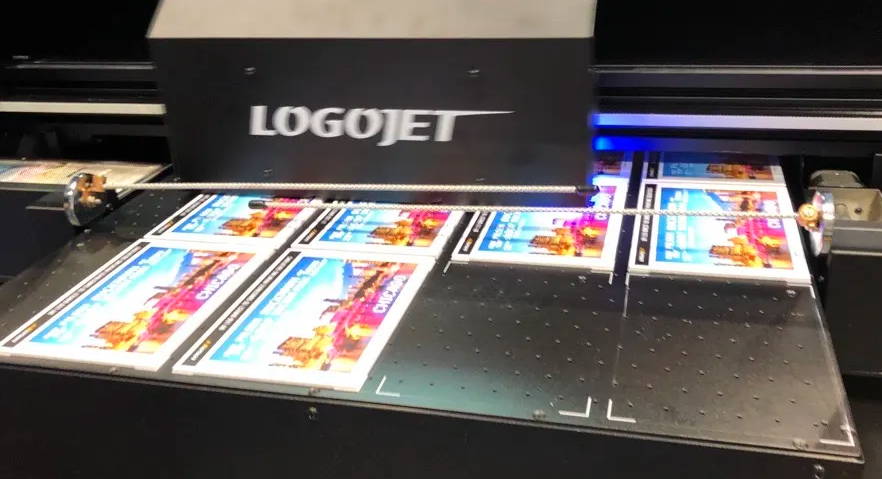 A custom tray is not required for all applications. If the material is flat and simple, you can use the re-usable multi mat to print your template layout. The product is placed in the printed template area and will not move because of the reusable rubber coating. The multimat is completely reusable and lasts a long time with proper care.
Also, all LogoJET printers have a built-in vacuum bed to hold lightweight materials in place when loaded directly onto the flatbed.
---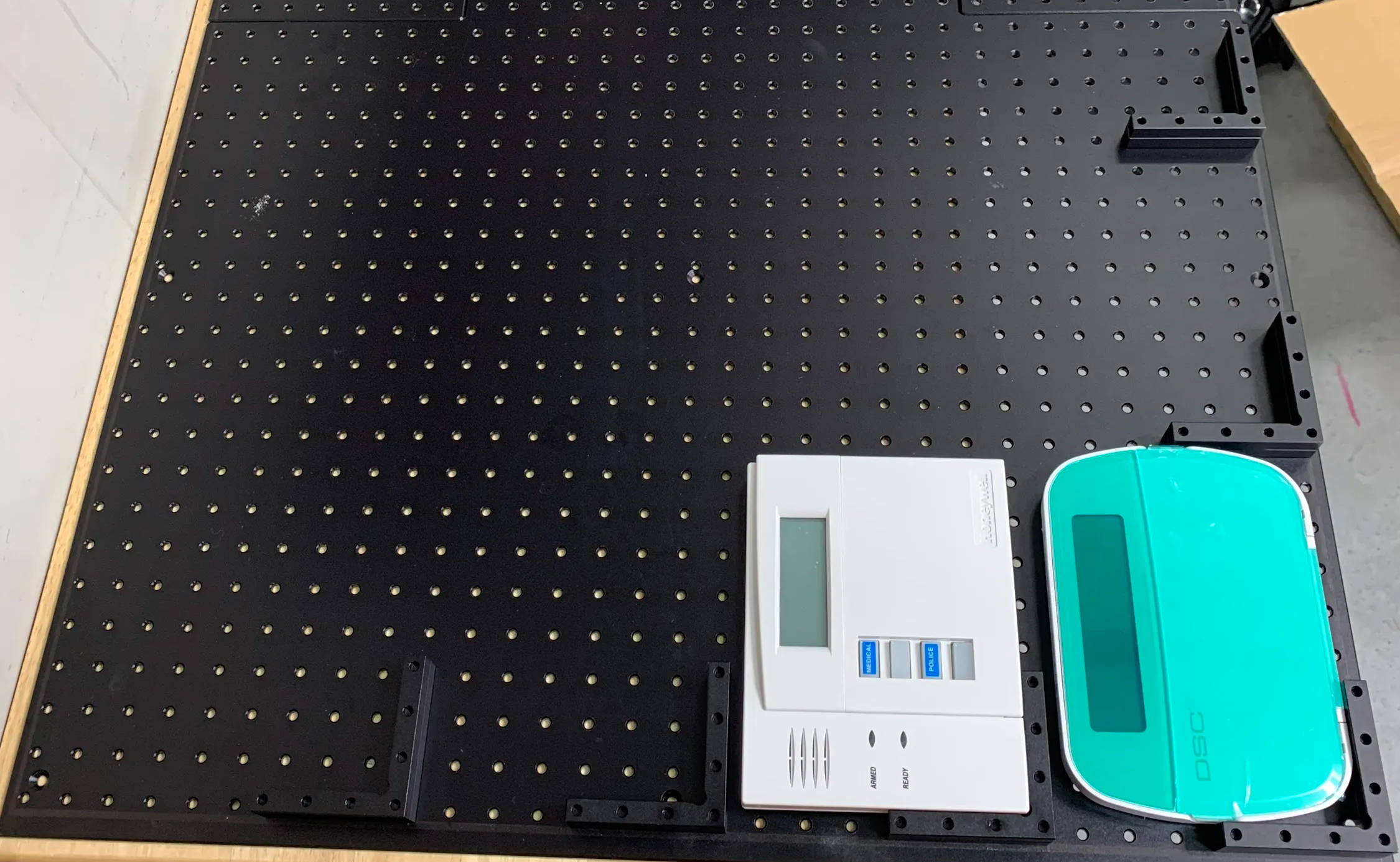 LogoJET makes a modular tray that includes L shaped brackets and straight bars so that you can easily configure any product layout on the bed, without having to make an actual custom tray. It works like a peg board so you can produce unlimited product layouts.
---
Do you have a product that requires maximum printing efficiency? Let us design a tray for you now!
Contact us today using the form below to get started.
Contact us for a Free Custom Tray Consulation