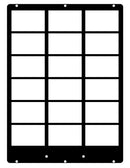 Description
Designed to hold ID cards (3.375" x 2.125" size)
Express 30R- 18 Position ID Card Printing Tray
UVx40R - 40 Position ID Card Printing Tray
UVx40R PLUS - 50 Position ID Card Printing Tray
UVx90R - 30 Position ID Card Printing Tray.  You will need 3 of these individual trays to fill the bed of the UVx90R printer. Each tray is sold separately and measures 12" x 24" with 30 product positions. 
Click here for downloadable Adobe Illustrator tray templates.
Payment & Security
Your payment information is processed securely. We do not store credit card details nor have access to your credit card information.