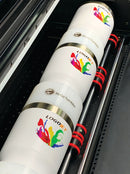 Description
The Rotary 360 attachment allows customization on the full circumference of cylindrical and tapered objects. Go from printing objects as slender as drumsticks to large bottles in a snap! Includes taper bar attachments. UVx40R/UVx40R-PLUS and UVx90R models accommodate printing on multiple bottles or tumblers at a time. Rotary cup rings shown in photos are sold separately. 
Tumbler Time Study on UVx90R Printer
(Three 30 oz Tumblers with 3x3 inch logo)
Ink: H2GH
Profile: 720x900, 3 pass, Bi, SML
Layer 1: Color
A.H.C.: 3 layers, color on layer 2
Time: 1 min. 19 sec.
Quantity: 3 Tumblers
Payment & Security
Your payment information is processed securely. We do not store credit card details nor have access to your credit card information.